Root 69: Gender Neutral Hairdressing in Liverpool
As an LGBTQ+ person, experiences as simple as getting a haircut can sometimes be filled with anxiety and total strangers interrogating your identity. Mel Underwood checks out a Liverpool salon setting a new direction in gender neutral hairdressing.
So today started off like most days; meetings to go to, people to see, places to go.. and then Char sent me this picture and EVERYTHING changed:
This is something I have been looking for in Liverpool for a LONG time so I headed straight there to go and check it out and I must admit I was not disappointed! Once in the shop which is located through the Blast store in the Duke Street Bazaar I was greeted by many a friendly face and instantly felt comfortable.
Being a massive fan of the rustic / retro look I fell in love with the decor and was really impressed that they not only had two chairs in the main part of the shop, but they also had a more private chair in the back of the space for people who wanted a little more privacy/quiet time whilst getting their hair cut.
Here are some snaps I took of the shop: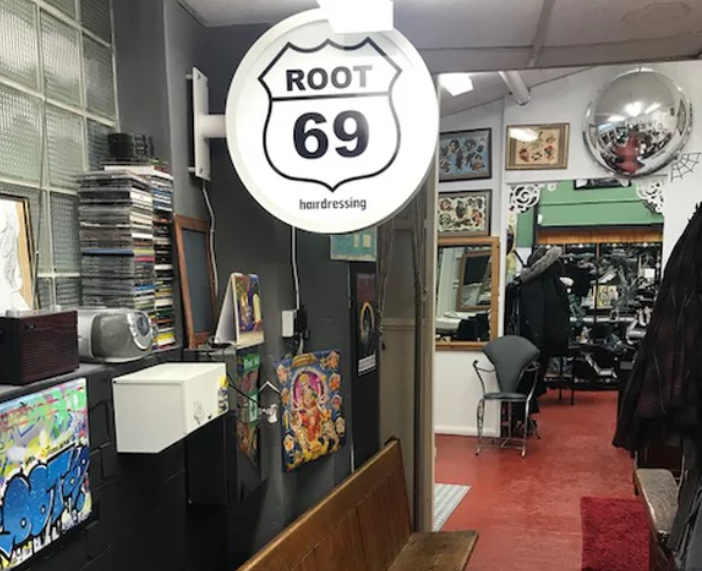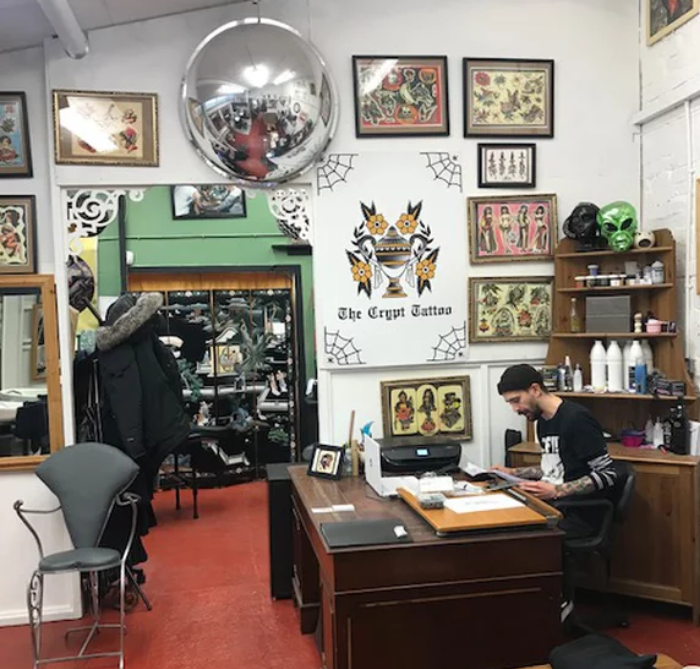 Me and the shop owner Steve quickly struck up a very meaningful conversation about how important it is for LGBTQ+ people to have a safe space in which they can get their hair cut and I found out that Root 69 has been doing this for years in a few different tucked away locations. The Duke Street Bazaar is made up of three stores: Blast from The Past - A Unisex vintage clothing shop and record exchange, Root 69 - Non-Gender Hairdresser, and The Crypt Tattoo which is a new Tattoo shop in the back of the space which felt equally as accepting and friendly. Although the space isn't officially dubbed as a Queer space it really did have a Queer vibe to it and it was a rare moment to lavish in the fact that I felt completely accepted and at ease in the space. There were even two Straight, Cis males getting their hair cut before me and joined in with our Queer discussions which was refreshing!
Our main topic of conversation was based around the stores pricing structure and wording as self admitted they still have a little bit of work to do on it before becoming completely Queer friendly as they are still learning themselves. At the moment they have a Female & Male pricing structure and although they are happy for you to identify as either gender, they hadn't really considered us non-binary folk who identify as neither and therefore can find that an awkward prospect. The guys have already agreed that this needs to change and are considering abolishing gender on their pricing list all together and instead using the terminology long and short hair which makes much more sense to me! We also explored the idea of an honesty box where people can pay what they feel for the services.
In the meantime I did take a snapshot of their price list if you wanted a nosey beforehand:
So in a nutshell I felt like I had died and gone to Queer heaven with finding this little gem on Duke Street. The guys are interested in collaborating with us on some future events we have planned so watch this space! Here's a little snapshot of my lovely new dapper haircut I got from Steve himself!
Go and pay them a visit and give them a follow on the old socials:
@RootSixtyNine
Address: Duke Street Bazaar, 43 Duke Street, L1 5AP.
Is there a company, organisation or a person we need to hear about and share with Liverpool's LGBTQ+ community? Pop us an email hello@liverpoolqueercollective.co.uk